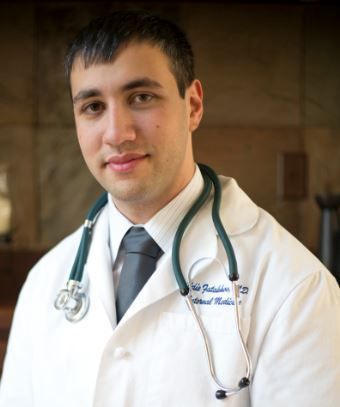 Dr. Eddie Fatakhov, M.D. is a board-certified internal medicine physician, nutritionist, best-selling author, and wellness expert. Dr. Fatakhov is the author of "Dr. Fat Off: Simple Life-Long Weight-Loss Solutions," "The Doctors' Clinic-30 Program," and contributing author to "Internal Medicine: Guide To Residency." Dr. Fatakhov has been featured on CNN, syndicated radio shows, local news, and podcasts.
In July of 2015, Dr. Fatakhov opened The Center for Internal and Integrative Medicine, where he provides medical and natural care for a broad range of conditions. Dr. Fatakhov helps patients discover and address the underlying causes of their health problems, so they can achieve optimal health. Each patient receives an individualized treatment plan that emphasizes disease prevention in addition to relieving symptoms. As a board-certified physician, Dr. Fatakhov has expertise in both internal and integrative medicine, along with nutrition and the prevention of health problems. He is a weight loss specialist, wellness expert, and nutritionist. Dr. Fatakhov speaks nationally about topics related to weight management.
Dr. Fatakhov has a diverse academic background, earning his M.D. at the American University of Antigua College of Medicine, and his MBA at Davenport's Donald W. Maine School of Business, specializing in healthcare management. Additionally, Dr. Fatakhov earned his Bachelor of Science of Nutrition at Life University. He completed his residency at the Medical College of Georgia at Georgia Regents University.
Dr. Fatakhov enjoys spending time with family and friends, staying physically active, traveling, and reading. He is an active member of the American College of Physicians and was awarded The Outstanding Resident in Volunteerism and Advocacy for the State of Georgia. Additionally, Dr. Fatakhov shares his internal and integrative medical knowledge and expertise with others as an assistant professor of clinical medicine at the Medical College of Georgia at Augusta State University.